The advantages of StereoTrader
Limit Pull Back Order
The advantages of StereoTraderThe exclusive order that allows you to earn more money directly through better entries and exits. You place a limit order as usual as entry or take profit. If the price is reached, the limit order becomes a trailing stop order with a point spread that you can set individually. If the price runs through the limit price constantly or at high speed, then you can exit with more profit or enter at a more favorable price.
One-Klick Speedtrading
In StereoTrader, orders can be opened with one click. StereoTrader automatically detects whether you want to place a limit or stop order. With the Ctrl + left mouse button you can place several orders in a fixed interval, a so-called "grid".
The advantages of StereoTrader in scalping
Scalping means cutting out. In this type of trading, you are usually only briefly invested in the market and cut out a part of a movement.
Scalping is very easy to do with StereoTrader, because since version 2.0 it has a scalp terminal, which appears when you fold in the side terminal in the upper right corner.
Here you have all the important buttons for quick trading in one bar. The special feature besides the fast order placement and the closing of partial positions via key combination is the TI button. If this is activated, then a trailing stop is immediately set in motion, which you can define yourself in the setup menu.
More information about scalping can be found on the website of Heiko Behrendt: https://scalp-trading.de/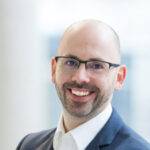 Heiko Behrendt is partner of StereoTrader. For more than 19 years he has been trading indices and currency pairs in the short-term investment area, the so-called scalping.
Today he is a sought-after expert in this area. He is active as a coach for other traders and appears at trade fairs and road shows.